Yuan Crunch Spurs Banks to Hoard Abroad as China Curbs Outflows
Chinese banks from Hong Kong to London are selling a record amount of yuan-denominated certificates of deposit as China takes steps to curb outflows of the currency.
Sales jumped to an unprecedented 66.1 billion yuan ($10.2 billion) this month, data compiled by Bloomberg show. That comes after Hong Kong's pool of offshore yuan savings, the world's largest, shrank to the smallest in two years, and Deutsche Bank AG said the currency's depreciation pressures are weighing on deposits.
The Chinese government has in the past month imposed restrictions on yuan outflows, including ordering a halt to offshore banks borrowing from domestic markets through bond repurchases, and suspending new applications in a program that allows domestic investors to buy overseas assets denominated in the currency. The measures are aimed at making it harder for speculators to short the yuan in the offshore market, according to National Australia Bank Ltd.
"Given the attempts by Chinese authorities to keep offshore interest rates high to increase the cost of shorting the yuan, this trend will probably continue," said Becky Liu, Hong Kong-based senior rates strategist at Standard Chartered Plc. "The depreciation expectations have made it increasingly difficult for banks to get funds from the retail market. Coupled with higher interbank financing costs, commercial banks now have to turn to CDs to lock in stable and relatively long-term funding."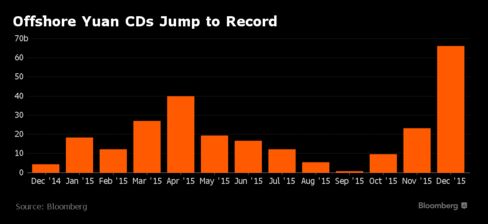 China has scaled back efforts to prop up the yuan after the International Monetary Fund included the currency in its Special Drawing Rights on Nov. 30. The yuan traded in Hong Kong has retreated 2.1 percent since then to 6.5637 a dollar on Friday and is set for the biggest monthly loss since August. Savings in the Chinese currency in Hong Kong fell 15 percent this year to 854 billion yuan in October, according to latest available data, prompting lenders including Bank of China (Hong Kong) Ltd. to offer higher interest rates to attract savers.
In December, Agricultural Bank of China Ltd.'s unit sold 63 million yuan of six-month certificates of deposit in Hong Kong, while China Construction Bank Corp.'s London subsidiary issued 100 million yuan of three-month securities.
"CDs can help banks raise a lot of money in a relatively short period of time," said Jack Yang, head of the yuan business division at Bank of China (Hong Kong). "Compared with selling yuan bonds offshore or attracting deposits from the retail market, it will continue to be the preferred way to raise funds for offshore Chinese lenders."
The yuan's fading fortunes challenge President Xi Jinping's push to broaden global use of the currency. Foreign capital is also needed to offset ongoing domestic outflows, which are threatening to destabilize the exchange rate and push up borrowing costs amid the slowest economic growth in 25 years. Financial institutions including the PBOC sold 221 billion yuan of foreign exchange in November, a sign of capital outflows, data showed this week.
Rates Rise
The overnight Hong Kong Interbank Offered Rate for borrowing yuan recorded its biggest-ever three-day increase, rising 458 basis points to 6.55 percent on Friday. Its year-to-date average was 3.22 percent, up from 2.2 percent in 2014. The comparable rate in Shanghai was 1.82 percent last week.
"In the past, banks could attract deposits in the retail market, but the yuan depreciation expectations have made it very costly to do so because fewer people want to hold the Chinese currency now," said Raymond Yeung, Hong Kong-based senior economist at Australia & New Zealand Banking Group Ltd.